Meet Your Student Advisor- Alexander Greenberg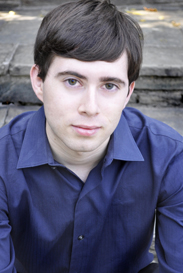 Alexander Greenberg is a pianist and music director originally from the Washington, DC area. He is a recent graduate from the Ithaca College School of Music, where he trained extensively in classical, musical theater, and other popular music. Since graduating, he has worked at various theaters in the DC and Finger Lakes areas, including Olney Theater Center, Studio Theater, and the Finger Lakes Musical Theater Festival. He most recently was the Assistant Music Director and Keyboard 2 on the 2017 national tour of PIPPIN, and can't wait for his first summer with BAA!
 Getting to Know Your Student Advisor
If you could have coffee with any Broadway star, who would it be and why?
I'd love to grab coffee with Jenn Colella. She seems like such a genuinely nice person, and I'd love to get to know her and chat about life.
If you could be any animal, what would you be and why?
Any animal: if we're including fictional animals, I'd love to be a Phoenix. I think they're so beautiful and powerful, it'd be so much fun. If we're just talking real animals, any big cat like a leopard or a tiger. Sleeping all day followed by bursts of energy sounds like a nice change of pace!
What is your favorite role you've played and why?
Back when I was still an onstage actor, I had the chance to be Moritz in Spring Awakening. His act two monologue is by far my favorite moment I've ever had onstage, and one of my most visceral experiences as an actor.