Meet Your Student Advisor- Emmeline Wood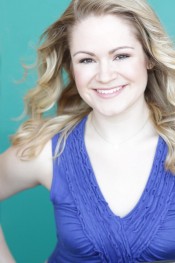 Email: emmeline@broadwayartistsalliance.org

Emmeline is a proud native of Kansas and a graduate of Florida State University. She is just finishing up two years on the road, having been out on tour with Bring it On the Musical and most recently Mamma Mia! Favorite regional credits include The Music Man, Grease, Hairspray, 42nd Street, and A Chorus Line. Working with BAA is one of her favorite things about living in New York City and she can't wait to share her love of theatre with such a passionate and exciting group. Let's risk together! Namaste.
Getting to Know Your Student Advisor
If you could pick any Broadway star to have coffee with, who would it be and why?
Celia Keenan-Bolger. She is a short, cute blonde that has been able to blend type borders and play an exciting and wide range of roles in her career.
What is your favorite thing about working with young performers?
Their enthusiasm and willingness to risk and learn.
What are some things that most people don't know about you? 
I am terrified of heights and constantly working on conquering that fear, I am studying two languages in my free time, and I can plug my nose when I swim without using my hands (you've gotta see it to believe it!).