Meet Your Student Advisor- Joey Falduti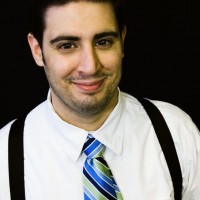 Email: jfalduti@broadwayartistsalliance.org
Office Hours: Varies (please email to schedule a phone call appointment)

Joey is performer and voice teacher.  He grew up just outside of NYC in Nutley, NJ.  He graduated from Montclair State University with a Bachelor's of Music, and went on to receive a Master's of Music in Vocal Performance – Music Theatre from NYU, where he currently teaches and recently completed an Advanced Certificate in Vocal Pedagogy.  He has performed in opera, musical theatre, and commercials.  Some past performances include The Consul (Kasser Theater), The Magic Flute (Frederick Loewe Theatre), The Boys from Syracuse (Provincetown Playhouse), One Step Closer: The Songs of Alan Menken (Provincetown Playhouse), and Joshua (Theatre315).
Getting to Know Your Student Advisor
What was the first Broadway show you ever saw?
The first Broadway show I ever saw was The Phantom of the Opera.  It was the show that hooked me into musical theatre.  I had the cast recording and for a while it was the ONLY CD I owned and so I literally wore it out.  It was what made me want to become a performer!
If you could pick any Broadway star to have coffee with, who would it be and why?
There are so many great performers.  But if I were able to, I think I'd love to sit down with the late John Raitt.  I think he is an amazing example of someone who could cross the bridge between the classical world and Broadway.  One moment he could be singing an aria from The Barber of Seville and the next moment he'd be performing "Hey There" from The Pajama Game.  Look him up on YouTube!!
What is your favorite thing about working with young performers?
I love watching young performers who are as talented as the ones I've seen at BAA.  It blows my mind.  But I also love being able to work with them and take them to the next level.  There's something so empowering about finding out what else you can do!