Meet Your Student Advisor- Maeve Duffy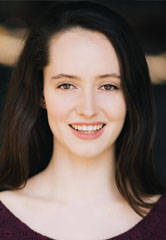 Email: maeve@broadwayartistsalliance.org
Office Hours: Varies, please email to schedule a phone call
Maeve Duffy is thrilled to return to BAA as a full staff member. Originally from Baltimore, Maryland Maeve worked as the Admin/Education intern last summer and was a Workstudy student for Winter Workshop. A recent graduate of Barnard College of Columbia University, Maeve Duffy studied Biochemistry and Theatre Arts with a concentration in Acting. In addition to regularly acting on campus, the past few months she has performed at St. Marks Theatre, Roebuck Theatre, StandUp NY and Georgetown's Bulldog Alley. Maeve is a Fulbright Scholar and this August she will move to Prague, Czech Republic to teach English and study theatre.
Getting to Know Your Student Advisor
What's your spirit animal?
My spirit animal is definitely a red panda. They are so playful and smart! Red pandas are a the perfect combination of cuddly and fierce. Oh and they are just adorable to watch:
What was the first Broadway show you ever saw?
I was 9 years old when I saw my first Broadway show: The Lion King. I sat on the aisle and a giraffe grazed my arm as it walked by. I was in awe of the magic and I have loved live theatre ever since!
What do you like most about working with young performers?
My favorite thing about working with young performers is how uninhibited they are. They are up for any challenge and ready to take risks. Young performers use their imaginations freely and watching them understand something on their feet is really special!