Meet Your Student Advisor- Michelle Lehrman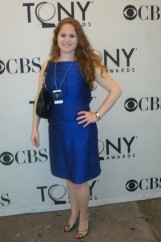 Email: michelle@broadwayartistsalliance.org
Office Hours: Monday through Friday, hours vary

Michelle holds a degree in Arts Administration from Wagner College, with a focus in theatre. She has been working with Broadway Artists Alliance since the first summer intensive in 2005.  Michelle has also worked for Actors' Equity Association, the Roundabout Theatre Company, and The Splinter Group.  Though she no longer performs, Michelle studied voice with Celeste Simone for many years, and enjoyed a "successful" high school theatre career. No, you may not see the videos.  Michelle lives on the Upper West Side of New York City and is originally from Suffern, NY.
Getting to Know Your Student Advisor
What was the first Broadway show you ever saw?
Beauty and the Beast.  It was my 10th birthday gift from my aunt. MAGIC!
If you could be any animal, what would you be and why?
A monkey, because I think monkeys are hilarious!
What are some things that most people don't know about you?
I love all things Harry Potter, I don't like avocado, and I love Indian food!  I also think the Chipmunks singing ANYTHING is funny.