Meet Your Student Advisor- Scheherazade Quiroga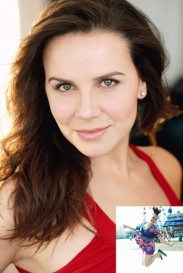 Email: schehe@broadwayartistsalliance.org
Office Hours: Monday through Friday 1:30PM-6:00PM
Fresh out of playing the role of Daniela in the US Spanish Premiere of In The Heights, directed by Luis Salgado, Scheherazade returns to BAA Summer! Schehe is a bilingual performer, director and producer. She started performing in television to later be part of Venezuela's professional Original Casts of Fiddler on the Roof, The Producers and the revival of Jesus Christ Superstar. In New York she's been part of The Laramie Project (Gramercy Arts Theatre), Sweeney Todd (Frederick Loewe Theatre), Street Scene (Brooklyn Lyceum) and Civilization! (45Bleecker Theatre).  Trained in classical voice, music theatre and alongside renowned acting instructors, Scheherazade holds a Master's of Music in Vocal Performance from New York University. She also loves to be behind the scenes, which is why she holds a Master's in Television from Boston University and a Bachelor's in Communication (Journalism and TV Production). Her one-act musical Pret-A-Morte (which she co-wrote and directed) has been selected for both the Miami and NYC Micro Theater Festivals.
Scheherazade has been an adjudicator for events including the Classical Singer National Competition (Musical Theatre Division), Classical Singer Online Event (Musical Theatre Division) and the Broadway Rising Stars Competition from Steinway & Songs alongside iHeart Radio. Her students can be seen on Broadway, National Broadway Tours, Regional and International Productions and in a TV near you! She love to coach young and adult performers alike, and those entering the NYC industry for the first time. www.ScheherazadeQuiroga.com
Getting to Know Your Student Advisor
What was the first Broadway show you ever saw?
Even though I had been in many shows, the very first show I actually saw ON Broadway was Young Frankenstein. I saw it when I came into the city for my NYU Master's Audition. I bought an Orchestra seat two hours before the show because I wanted to see Sutton Foster performing live… And I did! I loved it! That was my first show, and probably the last time I paid full price for a Broadway ticket (thank God for those student ID's!)
If you could pick any Broadway star to have coffee with, who would it be and why?
Mr. Stephen Sondheim, hands down! He's a star composer and such a wonderful lyricist. I pick songs usually because of their lyrics and I have a particular attraction to the way Sondheim writes and his mischievous wordplay. He writes for actors and yet with a musicality that works to enhance the words he uses… Which is just fantastic. He also writes about e-v-e-r-y-t-h-i-n-g! I've been known to watch many of his interviews on video so, having an actually conversation with him would be a thrill. (If Lin-Manuel is free for lunch, of course, I'm available for that as well!)
What is your favorite thing about working with young performers?
Their fearlessness! Young performers may not know it quite yet, but it takes a lot of guts to stand in front a group of people and sing. It's a special kind of courage and I love encouraging it and being recharged by it myself!