Latecomers and Dance Scholarship VIDEO AUDITION DEADLINE is May 10th!
CALLING ALL SUMMER INTENSIVE CANDIDATES!
Our Latecomers Video Audition Deadline has been set for May 10th! This is your final chance to submit a Video Audition to be considered for all BAA Summer Intensives of 2017.
BAA DANCE SCHOLARSHIP UPDATE!
Did you miss our Live Auditions this April? Well, GOOD NEWS….
BROADWAY ARTISTS ALLIANCE OF NYC HAS TWO FULL TUITION SCHOLARSHIPS AND THREE PARTIAL TUITION SCHOLARSHIPS STILL REMAINING TO AWARD!
Instructors and BAA Alumni, if you have a strong recommendation for an exceptional dancer who is passionate about pursuing musical theatre, please encourage them to complete a Video Audition Submission! Our final submission deadline is May 10th.
Dancers, CLICK HERE for our Video Audition Guidelines!
Visit https://app.getacceptd.com/BroadwayArtsAlliance when you are ready to submit your Audition Video before May 10th!
For more info on our advanced Summer Intensive Programs in Musical Theatre, CLICK HERE!
Broadway Artists Alliance provides professional training for promising young musical theatre performers- right in the heart of New York City! Participants study dance, voice, and acting with TONY Award winners and current Broadway performers, as well as NYC's top musical theater casting directors, agents, managers, directors, dance captains, and choreographers. Our audition only summer intensive program assembles like-minded, highly talented teen and young adult performers from across the country to study with the very best of Broadway!
BAA specializes in Summer Intensives, Year Round Workshops, One Day Master Classes, Weekly Classes, Private Coachings, and College Audition Planning for promising young performers. Our expert staff challenges each student to develop his or her "Triple Threat" performance skills, while learning about the business of Broadway and making connections with top industry professionals.
⭐️ Study with Tony Award Winners, Directors, and Choreographers
⭐️ Choose your own elective class curriculum in Dance, Voice, and Acting
⭐️ All classes are taught by Broadway Artists and Top NYC Industry
⭐️ Receive one on one feedback from every instructor
⭐️ Perform in a final showcase for top NYC industry members
⭐️ Attend a Broadway show and have a talk back with the cast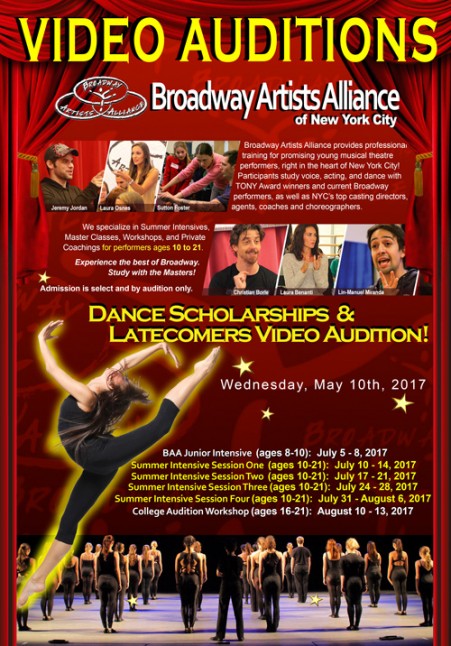 Experience the best of Broadway! Study with the masters!