Private Coaching with Dr. Joseph Mace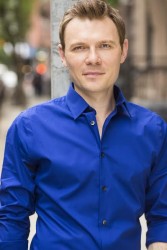 Dr. Joseph Mace

Email: jmace@broadwayartistsalliance.org
Specialties: Vocal Coaching, Voice Technique
Skype Coaching Available? Yes
Dr. Joseph Mace is a Manhattan based voice teacher, singer and actor. His students and coachees have been admitted to prestigious graduate and undergraduate programs and are performing off-Broadway and in regional theatres across the country. Joseph earned his Doctor of Music degree in Voice, Music Education and Theater from the Indiana University Jacobs School of Music where he taught voice and successfully mentored hundreds of undergraduate students as an integral member of the university's retention faculty.
Featured on NPR's (WFIU) "Artist in the Making" series, Joseph is a recognized crossover singer, performing musical theatre, jazz, opera, oratorio and song. Joseph got hooked on musical theatre at the age of 8 when he appeared in his first role, Oliver. Since that time he has appeared in more than 50 productions across the country. Recently, Joseph was recognized as a "standout performer" (Maryland Theatre Guide) in the Regional Tony Award winning Signature Theatre's production of Sunday in the Park with George (Helen Hayes nomination, Best Ensemble). In the world of jazz, Joseph numbered in the elite group of soloists who "performed with thrilling perfection" (San Francisco Chronicle) in the San Francisco Jazz Festival premiere of Shelby's jazz oratorio, Bound for the Promised Land. An advocate of new music, Joseph has debuted numerous works including performing as one of only five American singers selected to premiere songs with The Breakaway Project (New York/Dublin). Additional premieres include The Winter's Tale (New York), San Francisco Blues (Amnesia Night Club, San Francisco), …And Waken Green (New York) and Songs of Loss and Love (New York).
A sought after concert artist, Joseph has appeared as soloist with the Indianapolis Symphony and professional orchestras in Montana, California, Louisiana and Indiana. A seasoned chorister, he recently made his Metropolitan Opera debut in Die Meistersinger and was a member of the New Orleans and San Francisco Opera Choruses as well as the Philharmonia Baroque Chorus (San Francisco). As a soloist, Joseph most recently sang the title role of Noah in Britten's Noah's Flood and has sung principle roles in Così fan Tutte, Little Women, Roméo et Juliette, Cendrillon, Gianni Schicchi and Idomeneo.
Joseph was born and raised in Montana. Before completing his doctorate, he earned a Master of Music Degree from the San Francisco Conservatory of Music. He attended Tulane University for undergraduate studies in Music Performance and French. www.josephmace.com.
Joseph's Coaching Philosophy
Learning to sing is fun, exciting and, yes, requires a bit of work! In our lessons, we work together to address all aspects of singing in a productive, safe, and non- judgmental space. As a working singing-actor myself, I can provide counsel and coaching based on a breadth of audition and performing experience!
Healthy singing happens in all styles of music! Working in whatever style you wish to sing, be it musical theatre, jazz, pop, or classical, I will help you develop your vocal technique, your musicianship and the way you think about singing. Cultivating these components together will allow you to be the master of your own voice and will give you freedom and confidence wherever you are performing, rehearsing and auditioning.
Singing is strongly linked to our bodies, our brains and our hearts! As singing actors, our job is to share and communicate emotions and ideas. In lessons, we will integrate aspects of posture, movement, and theatre so that you can sing freely, communicate clearly and honestly, and to be ready to wow audition panels and audiences!